Ten basic steps outlining God's plan of salvation for us: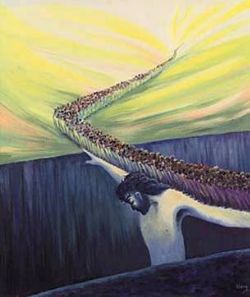 God created the world out of love. He is our loving Father who made us in his image and likeness. He loves you and wishes to share his own life of love with you. (Jer 31:3)
God made a covenant – a sacred family bond – with humanity (Gen 9:9). He calls each one of us into this covenant relationship: to share friendship with him and each other as his family, trusting and obeying him in everything.
We have all broken God's covenant (Eccl 7:20). To reject God, to make wrong choices, or to live without having him at the center of our life is called "sin." Sin causes a break in our relationship with God and separates us from him and from his life. Its result is death (Ezek 18:4).
We are not capable of repairing this break on our own, not through good works, keeping commandments, through philosophy, meditation or even prayer (Prov 14:12). Only God can fix our sin problem. Long ago, God chose the people of Israel to be his special witness to the world; He revealed to them that the way to receive forgiveness was by offering blood sacrifices in atonement for sins (Lev 17:11).
God provided the universal solution to our sin when He became man in Yeshua (Jesus) the Messiah and formed a New Covenant with Israel (Jer 31:31). Yeshua took on our mortal nature and offered his life as a sacrifice to reconcile us with God, to show us the Father's love, to be our model of holiness, and to give us a share in God's own life (Isa 53:5-6, Jn 3:16).
Yeshua was raised from the dead by the power of the Holy Spirit. He then sent the Holy Spirit to dwell within us to reconcile us and make us one with God (1 Cor 15:3-8, Rom 5:5) and reconcile us to one another.
The Catholic Church is God's worldwide family that Yeshua has established by his Spirit. Through the Church Yeshua shares with us the way, the truth and the life (Mt 16:18, 1 Tim 3:15). Jesus also has given us his mother, Mary, to be our own spiritual mother (Jn 19:27).
The Holy Spirit comes to us in a powerful way through the seven sacraments of the Church, beginning with Baptism (Mt 28:19). The greatest of the sacraments is the Eucharist: the sacrifice of the New Covenant and the family meal that nourishes us with Jesus' own body and blood (Jn 6:51-58, Lk 22:19-20).
As God's children, we are earthly pilgrims heading home to heaven, our true homeland where we will share forever God's life and love with him and with each other (Phil 3:20).
God calls us to repent by turning away from sin and selfishness, choose to follow Yeshua and believe in him, be baptized and join ourselves to his Body, the Church (Acts 2:38).