The Dormition Abbey on Mount Zion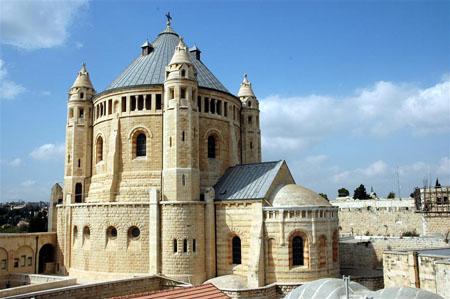 On August 15, Catholics around the world celebrate the Feast of the Assumption, commemorating the taking up of the Virgin Mary into heaven at the end of her earthly life. The feast is known by the Orthodox Churches as the Dormition (falling asleep) of the Theotokos, and this is also the name of the Catholic sanctuary in Jerusalem that commemorates the event: the Hagia Maria Sion or Dormition Abbey. The massive Benedictine church, with its high, domed bell tower visible from many points in the city, is situated on Mt Zion. The hill was part of the walled upper city in ancient times, but today is just outside of the Old City walls, close to the Zion Gate. Right next door is the place venerated as the tomb of King David, and almost directly above it is the Cenacle – the Upper Room where Jesus celebrated the Last Supper with his disciples. Because of the special sanctity of the site, it became the location of an early Jewish-Christian church known as the Church of the Apostles.
In the early 5th century, Byzantine Christians built there the great basilica of Hagia Sion (Holy Zion), destroyed by the Persians in 614. In the 12th century, the crusaders built an even greater church called Santa Maria in Monte Sion (Our Lady of Mount Zion), but it too was destroyed in 1187. The site remained abandoned until the late 19th century, when at the initiative of German Kaiser Wilhelm II the present basilica was built and inaugurated in 1910.
The Dormition is a popular destination for pilgrims and locals alike. Inside, the circular basilica is remarkable for its simplicity and beauty. At the center of its semi-circular apse is a mosaic of Mary and of the child Jesus, with the figures of twelve prophets below them. Around the church are six side chapels decorated by beautiful mosaics depicting scenes such as Mary and the infant Jesus receiving pilgrims, Jesus' family tree, John the Baptist on the shore of the Jordan River, St. Benedict – the founder of the Benedictine order, and other saints.
Two spiral staircases lead down to the crypt, a round pillared room with a sculpture of Mary "asleep" in the center. On the ceiling above her is the figure of Jesus, as if watching over her, surrounded by the great women of the Bible: Eve, Miriam, Yael, Ruth, Esther and Judith. Beyond this main room, are several other chapels and altars donated by various countries.
With Mary known in Christian tradition as the personified "Daughter of Zion," closely identified with the people of Israel, it is fitting that her place of rest is preserved on Mount Zion, where Jesus instituted the Eucharist and where the Holy Spirit descended upon the apostles at Pentecost. The words of Pope Benedict XVI help us meditate on Mary's assumption into heaven:
"By contemplating Mary in heavenly glory, we understand that the earth is not the definitive homeland for us either, and that if we live with our gaze fixed on eternal goods we will one day share in this same glory and the earth will become more beautiful."
(Pope Benedict XVI, General Audience at Castel Gandolfo Aug. 16, 2006)