Holy Week and Easter in Jerusalem
The period of Lent is coming to an end, and both the local Christians and thousands of pilgrims who have come to fill the streets of the Holy City are getting ready to celebrate Holy Week and its culmination on Easter Sunday – the most important time of the Christian liturgical year.
There is nothing like experiencing Holy Week in Jerusalem. Celebrating the greatest events of salvation history and of Jesus' life at the very sites where they occurred is a moving and unforgettable experience of faith for every believer who can be present.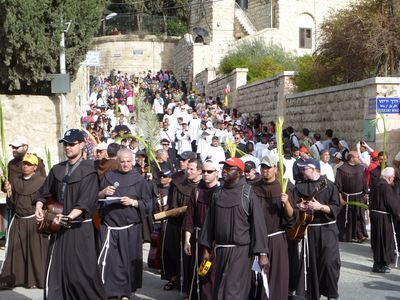 Holy Week officially begins with the celebration of Jesus' entrance into Jerusalem on Palm Sunday (April 1), with morning Mass at 8 AM at the Church of the Holy Sepulchre and the traditional palm procession in the afternoon. Beginning at 2:30 PM, thousands of Christians from all nations will joyfully march from Bethphage, praying and singing in all languages, down the western slope of the Mount of Olives across the Kidron valley and into the Old City.
On Holy Thursday, the Mass of the Lord's Supper will be celebrated at the Holy Sepulchre at 8 AM by the Latin Patriarch of Jerusalem, and in the afternoon (3:30 PM), the Franciscans will make their traditional peregrination to the Cenacle (the Upper Room) on Mount Zion. In the evening, beginning at 9 PM, pilgrims and local Christians alike will watch with Christ during a meditative Holy Hour in the Garden of Gethsemane, followed by a candlelight procession to the church of St. Peter in Gallicantu, traditionally known as the place where Jesus spent the night after his arrest.
On Good Friday, at 8 AM, the Lord's Passion and crucifixion will be remembered at Calvary, followed by the Stations of the Cross on the Via Dolorosa at 11:30 AM led by the Franciscan Custos of the Holy Land. In the evening, at 8:10 PM, Christ's funeral will be celebrated at the Sepulchre, an event unique to the Church of Jerusalem reenacting the deposition of Christ's body into the tomb.
Because of the Status Quo regulating the different liturgical events in the Holy Sepulchre, the great Easter Vigil, the climax of the week, is anticipated to Saturday morning at 7:30 AM in the Basilica of the Resurrection, followed by the solemn entry of the Patriarch there at 3:30 PM and the recitation of vespers at 6 PM.
On Easter Sunday, Mass will be celebrated at 8 AM with a procession around Jesus' tomb, and then the daily procession will take place at 5 PM.
Finally, on Easter Monday, the encounter between Jesus and the two disciples on the road to Emmaus will be commemorated with the celebration of Mass at the Holy Sepulchre at 8 AM, and also by the Custos in Emmaus at 10 AM.