Jesus and Mary on Jerusalem, Israel and the End Times?
"
Locutions to the World

" (Part I)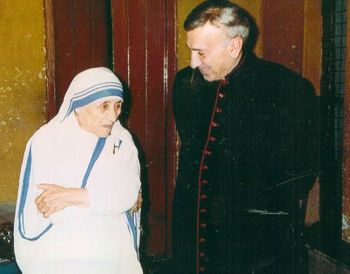 Recently I stumbled upon a blog called Locutions to the World, published by Monsignor John Esseff, who is diocesan priest and exorcist for the diocese of Scranton, PA. Msgr. Esseff, who was ordained in 1953, writes that he had Padre Pio as spiritual director, and later was Mother Teresa's spiritual director.
In this blog, Msgr. Esseff explains that he is now the spiritual director of a person who has been receiving locutions from Jesus and the Blessed Virgin Mary. For a time, these locutions were personal, addressed to the local community, but since December 2010, according to Msgr. Esseff, these locutions have begun to be addressed to the whole world. Msgr. Esseff writes that he has discerned the validity of these locutions, and apparently he has judged them sound enough to publish.
The locutions drew my attention because, according to the messages, Israel and the Jewish people are at the center of the dramatic events that are about to take place in the world. Those locutions speaking explicitly about Israel and the Middle East are reproduced below. However, I urge you to you read all of the locutions in context on Msgr. Esseff's blog, as they offer many spiritual insights and urgent exhortations related to the events that are in the process of unfolding in the world and in the human heart.
IMPORTANT: Please note that the locutions belong to the realm of private revelation and not to the Church's deposit of faith. Catholics for Israel does not endorse these prophetic messages as authoritative. However, their content is a powerful message that seems to be in tune with God's public, divine revelation and are certainly worthy of prayerful reading and discernment at the reader's discretion.
Ariel Ben Ami
---
Note: The comments are all originally from Msgr. Essef's blog. No further comments have been added.
Lucy's Fatima Vision
Jan 1st, 2011
Since the messages that follow concern the effects of the Pope's dream which Mary revealed to the three children of Fatima (July 13, 1917) I will put here Lucy's description of that vision as released by the Vatican (June 2000)
We saw in an immense light that is God: "something similar to how people appear in a mirror when they pass in front of it", a Bishop dressed in white. We had the impression that it was the Holy Father. Other bishops, priests, men and woman religious going up a steep mountain, at the top of which there was a big Cross of rough-hewn trunks, as of a cork-tree with the bark; before reaching there, the Holy Father passed through a big city half in ruins and half trembling with halting step, afflicted with pain and sorrow, he prayed for the souls of the corpses he met on his way; having reached the top of the mountain on his knees at the foot of the big Cross, he was killed by a group of soldiers who fired bullets and arrows at him, and in the same way, there died one after another, the other bishops, priests, men and women religious, and various lay people of different ranks and positions. Beneath the two arms of the Cross, there were two angels each with a crystal aspersorium in his hand, in which they gathered up the blood of the martyrs and with it sprinkled the souls that were making their way to God.
Read more on the Message of Fatima as published by the Holy See's Congregation for the Doctrine of Faith.
---
Keep Your Eye on Israel
Feb 4th, 2011
Jesus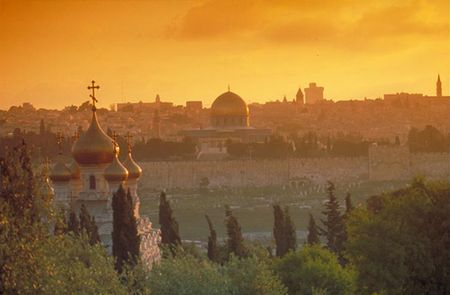 How long will it be? Keep your eye on Israel. This is the center. By keeping your eye on Israel you will get to know the time. Not exactly, but you will see it coming closer. The more danger there is to Israel, the closer the time will be.
I love Israel and I love Jerusalem. In Jerusalem, I shed my blood, redeemed the world and rose from the dead. It is a sealed city, sealed in my blood and in my Holy Spirit. Even more than geography, I love the Jewish people. They are my people. But Jewish lips do not call out, "Jesus is our Messiah". I like to hear these words from anyone's lips. But I have my greatest joy when I hear those words from the lips of a Jew and from the lips of Israel. This is the deepest hope of my heart.
Comment: In these locutions Israel takes center stage, both in the time frame of events and in Jesus' heart.
Mary
I am a daughter of Israel and I dreamed of Israel gathered around the Messiah, for whom they had waited so long.
But then, what did I experience? I saw Israel reject my Son, call him a false Messiah, reject his claims and nail him to the cross. But that was only my first sorrow as a daughter of Israel. After He rose from the dead and the apostles began to preach, I held new hopes. Certainly now, Israel would accept my Son as Messiah. Instead, I experienced a second rejection. My own people did not accept Him as their Messiah. Twice, I have been broken in heart. Twice, they have rejected Jesus as Messiah. But it will not happen a third time. I look forward to the day when all of Israel will proclaim my Son as Messiah.
The moment of the greatest darkness is the moment before the greatest light. The very moment when it seems that Israel will be destroyed is the moment when I will save Israel and all will proclaim that Jesus is the Messiah. I have revealed the deepest sorrow of my heart.
Comment: Mary's two-fold sorrow brings forth a promise that this time the result will be different. Israel's moment of greatest darkness will be the moment when Mary rescues Israel.
---
Seeing the Future of Israel
Feb 7th, 2011
Jesus
As I stood at the table of the Last Supper, I saw Israel. All its future history unfolded before me, the destruction of the city by the Romans, the dispersal of Israel all over the world and the moment when the Jewish people would be invited to return, as the State of Israel was formed. As they returned, all rejoiced. However, they put their trust in their own strength, as their forefathers had done. They built weapons of war and rejoiced in these weapons. They were on the wrong road, being led down a path that led into the hands of their enemies, instead of withdrawing into the safety of my arms. Now, their enemies gather arms and the tide is shifting. Their protection drops away from them. There is terror on every side and still they do not turn to Me.

Centuries ago, the Father intervened on their behalf and sent Me, hoping that all Israel would proclaim Me as Messiah. But they killed Me. What will the Father do now? He cannot send Me again to die. So, He will send My Vicar, the Pope.

The Pope will enter Jerusalem like I entered it. The city will already have suffered much and Israel will begin to despair, wondering what can be done. Then this figure clothed in white will come, sent by the Father just as He sent me. He will come to save Israel, just as I came. He, too will die in Jerusalem but his death will have a profound effect upon the whole world. For the whole world will weep at his death and his death will bless Israel. Why do I reveal these things now? Why do I bring you to the center of the mystery so quickly? Because the time is short. The events are near. They are not far away.

Comment: Jesus describes what has happened since the State of Israel was formed and why it is now prey to so many enemies. Most important, the Holy Father goes to Jerusalem, dies there, and a series of events begin that save Israel.
---
The Pope Dies in Jerusalem
Feb 9th, 2011
Jesus
The Church came forth from Israel, like a child begotten by a mother, but Israel began to reject her own child. The soil rejected the fruit it had brought forth. Then came the saddest time of all. Israel and the Church were separated. Now they stand as distinct groups. The mother has rejected her child and the soil has rejected the roots that should have stayed within it.
Peter was the apostle to the Jews and Paul always preached first in the synagogues. The word was preached and the roots tried to enter more deeply into the soil. However, they could not pierce its resistance. Without deeper roots, the plant could not stay long in its original soil.
However, when the darkness comes and Israel is in distress, there will be a new moment. The Pope, the head of the Catholic Church, will go to Israel in its darkest hour and lay down his life for Israel. The eyes of many Jewish people will be opened. They will say "We have been saved by the Catholic Church". The soil will be open and receptive again to the original seed. My Church and my Jewish people will be joined as I have wanted them to be for centuries.
As the Church's roots are placed once more into its original Jewish soil, the other divisions of the churches will be healed because they happened due to this first division of the Church from the Synagogue.

It will be clear to all the Christian Churches that there is a new call to unity, a call to unity at the roots and in the heart.
Churches will see what they have never seen and do what they thought they would never do. Seeing the union of Israel and the Catholic Church, they will say, "We must be one". All the barriers to unity, put up over the many centuries, will be swept away in one breath of the Spirit.
There will be the ingathering prophesied by Isaiah. All the riches of the nations will come to Israel. This will be true wealth, the spiritual wealth of all the Churches gathering as one in Jerusalem with Israel and the Catholic Church. My prayer will be fulfilled, that all would be one as the Father and I are one.
Also, the world will see something quite different, what they have never seen. They will see the Churches united and all the Churches united with Israel. The world will experience a powerful call to come out of darkness. The Church and Israel will be a light to all nations. The light will not be lessened or covered over by divisions of the Churches or divisions between the Churches and Israel. The world will not be able to escape the invitation. The unity will stand before them inviting them to accept Me as Lord.
Comment: This is extraordinary. The sacrificial death of the Pope leads to a full union between Israel and the Catholic Church which leads to a reunion of all of Christianity, planted again in the soil of Israel. This greater witness will confront the world with a more powerful invitation to accept Jesus Christ as Lord.
Mary
A moment will come when I will take my beloved son, the Pope. I will walk with him to Jerusalem. For the second time I will go to Jerusalem to witness the death of a son.
When this happens the eyes of the Jewish people will see for the first time. They will see in the Pope's death what the Catholic Church has done for them. There will be no mistake about which Church has blessed them, because it will have been done by the head of the Church and by the greatest of sacrifices. Israel will embrace the Catholic Church.
All Catholics will welcome Israel because all will have seen the decision of the Holy Father (the bishop dressed in white) to offer his life for Israel. The union between the Catholic Church and Israel will be a union of hearts brought about by the events that the whole world will have has seen and can never forget.
Comment: By the Pope's death, Israel's eyes will be opened to the Catholic Church and how Catholic hearts will be opened to Israel. Both happen from the same event.
---
The Earth Tilts Towards Evil
Feb 21, 2011
Jesus
Everything is tilting towards evil and darkness. This has been going on for some time but there is no longer any balance. All has shifted and there will be a quickening of events. All will culminate in the events that I will describe.
At this point, no one can quell the uprisings. They are fires that will continue until all the wood is consumed. Then, like any fire, they will burn themselves out. However, Satan never intended these fires to accomplish his final goal, the destruction of Israel. The purpose of these fires was to weaken all the protection, all the buffers around Israel. This is what is happening but this is not meant to be Satan's final attack.
---
Rome and Jerusalem
March 7, 2011
Jesus
Great vision is needed because the devil believes that he is finally able to destroy the Church. He has almost all of his people in place to attack the Church of Rome. However, the heart of my church is not in Rome, but in Jerusalem. The church was transplanted to Rome because Jerusalem would not survive. So, the move of Peter and Paul to Rome was my will.
Rome is not Jerusalem. All the churches see the uniqueness of Jerusalem. After the Pope is killed, there will be a question. Will the papacy stay in Jerusalem or return to Rome? The deceased pope will have instructed his followers clearly. Some people will remember the splendor of Rome and will want to return. They will return but those who are faithful will elect a new pope and the world will know that the soul of the church is in Jerusalem. This small seed will grow strong in Jerusalem and the gift will take root.
---
Our Lady Speaks to the Nations
April 9, 2011
Mary
To the Church in the Middle East
How dark it is for my Church in the Middle East. Satan is uprooting the Church that has been planted for centuries, but I will place a new vineyard there.
The strife will continue and believers will be caught in the crossfire of constant turmoil. The Church will be severely damaged. I will weep and I will wait for my son, the pope, to come and place a new vine in the old vineyard. Many will see it as small, but it will be young and vibrant, freed from the past divisions, a new Church, a free Church, an Israel Church, planted in the right soil.
Comment: The first part is already happening. The number of Christians in the Middle East decreases dramatically due to war. The second part is consoling. A new Church will come forth.
To Europe
...O Europe, now your churches are empty and you brazenly proclaim, "We are a secular union". Yes, a secular union which will be overwhelmed by the religious Muslims. They will devour you, not with their weapons, but with their faith, their beliefs and their religious practices.
Turn back to me or your European Union will collapse like the paper building that it is. Do not say, "Our economies are flourishing. Our way of life is succeeding". You have forgotten your Mother, the Church. Your union is like a little baby compared to my Church. How long have you existed? Not even a century. What is that compared with 2000 years?
Return to your mother. She awaits you. You need her wisdom. You need the spiritual life which flows from her womb and the nourishment that comes from her breasts. Your hearts are joined in money and in your economic system but not in the Catholic faith.
If you exalt my Pope, I will exalt you. If you listen to his wisdom, I will lead you along a path of survival. Otherwise, your destruction is near at hand because your union is a union of convenience, not of faith.
I ask you this. Would you die for one another? Would you shed your blood for your common faith, when you have no faith? Return now, while it is not too late. Fill the churches and I will drop down blessings from heaven and you will say, "The Age of Faith has begun again".
Comment: Mary points out the obvious. Europe's oneness came from their unity in the Catholic faith. The European Union rejects that source of unity and has adopted a secular model, making it vulnerable to the Muslim religion.
To Muslims
To all who proclaim Allah as your god and Mohammed as his prophet. You have set aside my Son as the light of the world and have put another in his place. He has used clever words and strict rules. He has laid burdens on your backs and told you that you are a holy people. Yet, he himself cannot confer this holiness.
He tells you that you must work for holiness that you must pile up good deeds that are greater than your evil deeds. What a bondage he places you in! What fears he plays upon. Is this religion – to pile up good deeds? Is there not a loving Father who has sent his only begotten Son to redeem and to make holy? Has not your prophet blocked the springs of living water that flow from my Son's side? Has he not turned you away from the gift of saving grace?
When will you learn? Salvation does not come from below, as you pile up goods, as if these could reach to the heavens. Salvation comes down from the Father of Grace. It descends upon mankind as a gift from above. It came through my womb which gave flesh and blood to the Eternal Son of God. All of this is yours, given as a gift and a grace offered to your freely.
Yet, you turn away from this gift to what you yourselves can earn by your good deeds. This is what your prophet has taught you. He has displaced the Son of God who pours out life freely and he tells you to work for your salvation. He removes the gift as if it had not been paid for and says, "You must pay again. Why pay again for what has already been bought by my Son's blood? Why bring the coins of your good deeds, when the Father will give you salvation paid for by His only Son?
This is the mystery which your prophet has set aside and is now hidden from your sight. Why has this been done? Why has the gift been set aside? Because you would go to Jesus, my Son, instead of to Mohammed. By these words, I reveal what is waiting in my arms, your salvation. Come quickly and I will give it to you. You know me well. I am Miriam of Nazareth.

Comment: Mary points out the basic failure of Mohammed. He has removed grace, the divine life freely gained by Jesus' death and rising. He has reduced Jesus Christ to a prophet, lower than himself.
To Israel
Would I not speak to a people who gave me birth and nourished my faith – a people I have always loved. Yes, I will say it – people I have always loved. You are my people, not just the people of my heart but the people of my flesh and blood. You are my Son's people, of the same flesh and blood.
You are a wandering people. First, you wandered in the desert and now you have wandered for centuries. Dispersed and not gathered together. United only by the word, the Torah, the teachings and prophets. Yet, these have kept you together and given you an identity.
"I am a Jew" you say, a member of a proud race, begun by Abraham and gathered together by Moses, united in the glory of King David, sent into exile, gathered again in Jerusalem, dispersed by the Romans and now present in every land, waiting and waiting for the Messiah.
Have you ever asked, "Has he already come? Who is this Jesus, whom so many proclaim as Lord?" Have you ever asked, "Were we mistaken? Did the forefathers kill the Son sent by the Father? Did they not kill the prophets before Him? Yet, today, you acclaim these prophets. Why do you not acclaim my Son?
No need to recall your history. Even more important, there is no need to allow these centuries to stand as an impregnable wall. Let us go back. Let us go back to the beginning. How did we get separated? How did we part our ways? How did those Jews who believed in Jesus get set aside?
Were their voices not heard? Were they not persecuted? Look at what Saul did before my Son appeared to him on the road to Damascus. Saul is my key witness. Study his life. Study his message. See him as one who persecuted the believers. Why did he change? Was he bribed? Was he forced to become a believer? Or, did he really see my Son? Did he encounter Jesus in the fullness of his resurrection? This is the question you must face.
You are a Jew. You will always be a Jew. I am a Jew. Paul is a Jew. Do not believe those who say that you cannot believe in my Son and remain a Jew. A believer remains a Jew, a Jew who has come to a fullness.
Comment: Mary's words strike at the heart of the question. Did Jesus rise from the dead? Did Paul see the Risen Jesus? Cannot a believer remain a Jew?
---
Mary and World Events
May 10, 2011
Mary
The Darkness of the Mideast Uprisings
Some nations are already in darkness. Others are in twilight, retaining some light. However, nothing is secure. Everything can change and much will change. Many nations are now in tumult, faced with the uprisings of their people. The West looks on, unable to comprehend what is happening, unable to see what will be the final result.
These uprisings are the beginning of the darkness, the first stirrings, the early signs. Yet, no one sees them for what they are. Many in the West think they are the first stirrings of freedom and democracy. You fools. These are not stirrings of light. They are stirrings of darkness. These nations are in twilight and these uprisings will put them into complete darkness.
I want these people to be free, but years have passed and who has preached the gospel of my Son to these nations? The West has never understood. Only the Spirit of my Son can set free. Whomever the Son sets free is free, indeed.
These are not religious revolutions, where people of light throw off the darkness of a dictator or the darkness of a system. These are secular revolutions and these nations will go from one darkness to another. What is secular is dark. What has no roots in God's word cannot bring about life and freedom.
The West has forgotten this. It has pulled up its own religious roots. You have only a light which is left over from centuries of abiding in God's word. This word you have rejected. Soon, your light will go out, also.
Comment: Mary sees all the uprisings in the Middle East quite differently than Western leaders. These nations have killed Christians and the missionaries. How can they now have a true light or true freedom?
A Son Whom I Will Call to Jerusalem
I will call a son from the West and he will go to the Middle East. He will bring no armaments of war, no secular powers, no large bureaucracy. He will come because I have given him my word. He already knows to come. To come and to lay down his life and to plant afresh the seed of God's word. He will be my Pope. With him, will come others, not to conquer any land or to claim any kingdom. They will come only because I said to them, "Go to where I lived. Go to where my Son preached". All of them will go in faith and when they come, they will do only what I tell them to do. There will be only a short time, just as my Son preached only a short time. They will find disciples and they will carry on the word.
"What can be accomplished by a Pope?" you ask. He will plant a light, a light at the top of the mountain, a light that will never go out, a light that all the nations and all the Churches and even all of Israel will walk by. It will be the Lord's mountain and all will say, "Let us climb the mountain of the Lord".
When nations climb the Lord's mountain, then their weapons will be beaten into plowshares and peace will come to the nations. This is the true light and I will bring it about, but only after a long darkness that convinces the world that it possesses no light at all. It will be a seed, planted in faith, which will become a gigantic tree that all the nations can rest in. Jerusalem will be the city of world peace as all the nations realize that my Son's blood was shed there, the blood which still cries out to the heavenly Father for peace to men of good will.
Comment: Jesus' blood, shed in Jerusalem, still has power to sanctify the city so that Jerusalem will be the light of the world. However, many events must happen before that takes place.
---
Go to Part II of the locutions on Israel and the Middle East